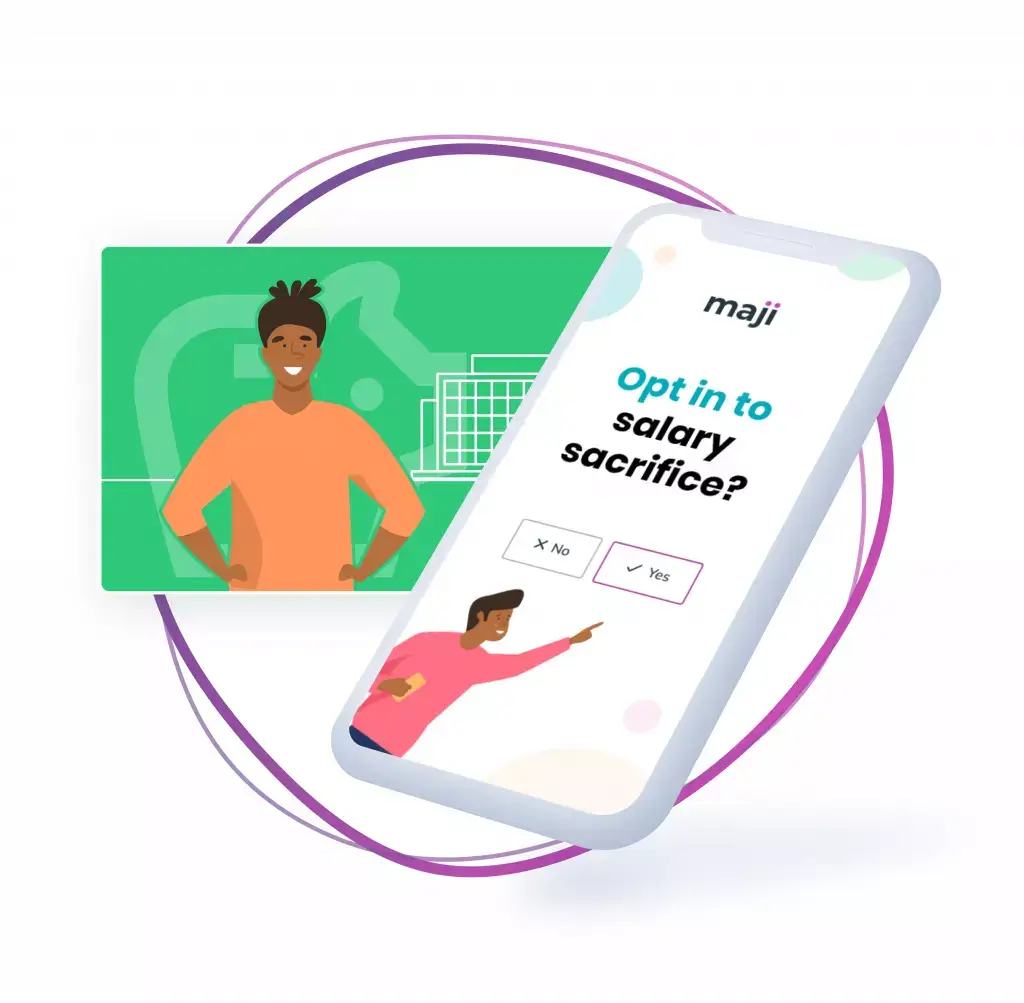 Reduce
Make savings worth up to £1,300 per employee per year
Give
Give employees a pay rise of up to £600 per year
Simplify
Give higher rate tax paying employees full tax relief (no more self assessment tax returns!)
Join the growing list of companies offering Maji
Save money and time with Maji
Maji is the UK's leading digital salary sacrifice scheme manager – making it simple for you to benefit from HMRC's tax reductions, and engaging employees in their pensions to maximise mutual savings.
How many employees do you have?
---
What's their average annual salary (£)?
YOU COULD YOU SAVE
£2,430
a year based on a minimum employee contribution of 5% of salary.
---
What's more, through Maji's coaching if your employees increase their savings to the recommended level of 10-12%, it will more than double your savings!
How Maji helps with salary sacrifice
Quick and easy digitised process
Maji's digital process lets employees consent with one click, stores all your records electronically and generates automatic contract addenda when necessary. No more paperwork!
Get our guide to implementing salary sacrifice!
Value for money
We cost less than a coffee for each employee a month. And due to our behavioural nudges and expert coaching, you can double your cost savings from salary sacrifice.
Make your scheme a success with Maji's top tips!
Full support for employees
Personalised calculations, communications and an employee workshop ensure your staff feel fully supported. We also take care of your employees' queries – employees can chat to us anytime, anyplace. Plus easy onboarding for new joiners into the scheme.
About salary sacrifice
Salary sacrifice, also known as salary exchange, is a scheme run by HMRC that involves a simple administrative change to how pension payments are made. This saves you and your employees money by lowering your National Insurance tax bill. It's one benefit that's a no-brainer to offer!
Maji makes your pension better too!
Personalised video
77% of employees want more help to understand their pension.

Introduce employees' pension scheme with a personalised explainer video that brings your provision to life.
Guidance and coaching
1 in 3 employees don't know how much to save.

Let Maji's accessible tools and calculators help employees create a clear savings plan and feel confident about their future.
Contribution rate control
The default rate of 8% is only 50% of the recommended savings rate.
Make it easy for employees to save more. One click savings options let them take control of their financial planning.
Smart tech
'Save more tomorrow' has helped 15 million people in the US boost their retirement savings so far.
Help employees achieve their long term savings goals with Maji's unique 'set and forget' tool that auto increases their contributions annually.
Plus…
Maji embeds the pension into an employee's financial journey, improving engagement through a holistic financial planning experience, coaching journeys, connection with financial experts and masterclasses. Visit the homepage to see all the extra features you get as part of a subscription.
Maji's features
| FEATURE | |
| --- | --- |
| Digital salary sacrifice scheme manager | ✓ |
| Personalised video introduction to pension scheme for each employee | ✓ |
| Workplace pension engagement information and coaching | ✓ |
| Contribution rate control making it easy for employees to model and adjust savings | ✓ |
| Smart technology to auto increase employee contributions | ✓ |
| Financial education centre (money guides and step by step coaching) | ✓ |
| Live balance tracking for bank accounts, savings and investments, loans and mortgages, pensions and property | ✓ |
| Financial health assessment and personalised improvement plans | ✓ |
| 1-1 support from vetted financial advisors, mortgage advisors and coaches | ✓ |
| Advanced retirement and financial planner | ✓ |
| Employer benefit package promotion | ✓ |
| Employer analytics | ✓ |
| Powerful employer analytics | ✓ |